CleanBean, the best cleaner for capsule machines
December 2015
Great coffee starts with a clean capsule machine. This is why Scanpart has added a brand new cleaning product especially for capsule machines to the assortment:
CleanBean, THE cleaning system for capsule machines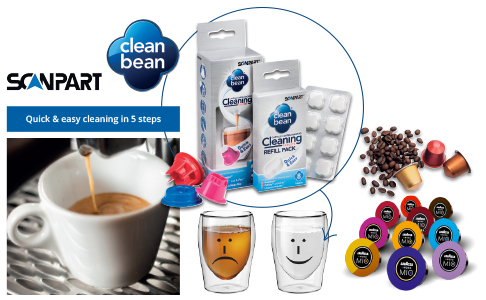 This unique method of cleaning uses reusable containers in which special cleaning tabs are pushed into. The tablet dissolves during the cleaning procedure, after which the container can be rinsed and saved for the next time. Since the containers each have their own colour, finding the right one for your machine is easy.
Easy and safe cleaning
The CleanBean method ensures a thorough and safe cleaning of the infuser and coffee spout, without affecting the materials. Cleaning is quick and easy in 5 simple steps. To make sure that the taste of your coffee stays optimal, we advise you to use the CleanBean regularly. At least once a month, after 30 cups of coffee or after using a different taste of capsule.
Watch our CleanBean video here.
View all news